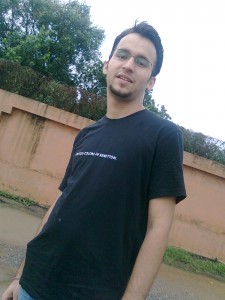 I am Shubhamoy, an engineer and budding entrepreneur from New Delhi, India. I love to learn new technologies and share it with the masses. I've completed my Bachelor of Technology in Computer Science from SKIET, Kurukshetra. I am also the Head Content Editor of SachinKRaj's Blog. Apart from that I am honing my skills in PHP, Shell Scripting, MongoDB and slowly shifting to Python. Recently developed dynofy with Abhishek Gahlot. It is a cloud monitoring system written in Python's Flask Framework and MongoDB.
About this Blog
This blog was launched on 1st August, 2007. My last attempt with blogging was very successful and full of new experiences, which encouraged me for a more serious attempt. Objective of starting this blog was to share some original content to the community.
Terms and Conditions
I believe in Open Door Policy. So you are free to copy anything till the time you give me credit. And if I have copied something and forgot to give you the credit, do remind me.
I hate spam as well as spammers.
Please don't post any inappropriate comment. Otherwise I will blacklist you from posting any further comments.
All views present on this blog, are my own views.
I request you to point out my errors. I will give you the credit for it.
For any queries you can mail me at info@shubhamoy[dot]com
Facebook: shubhamoy and theshubhamoyblog
Twitter: @shubhamoy