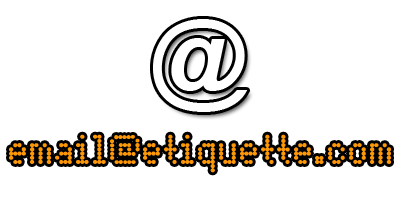 E-Mail or we say an Electronic mail forms an essential part of our day to day life. This is an important innovation of technology; allowing us to communicate with our near and dear ones, company officials and even strangers. When it comes to personal mailing, then things doesn't matter much, but when it comes to official mails, communication in a right manner; matters a lot. An e-mail written in an effective manner can add laurels to our career as well as life.
The basic rule of E-mail is IMPACT. Yes, though a complete word in itself that has broad and positive meaning, still an abbreviation in terms of mailing world.
Intention: What do you wish to achieve?

Medium: Is email best way to communicate?

Profile: What does it say about your Organization?

Assumption: What are you assuming about your Recipient?

Craft: Is it easy to read and understand?

Them: Read it back from their point of View!
Intention signifies what is expected from the person whom we are mailing to, i.e., whether we want them to take any action or we just want to inform about something. This will help us in getting an effective and correct response.
Sometimes, sending a mail is not a best way to communicate, e.g. we want to know urgently whether permission is to be granted to a third person or not regarding some software access and for this we need to ask our manager for approval, and then we can't send an email and wait for his/her response. We just need to call our manager at that point since its urgent. Hence sending an e-mail won't solve our purpose at this time.
Profile determines the essence of our organization on the person/client we are mailing to. Being a part of an organization, we need to communicate with different people and represent our organization. Hence it becomes essential that we provide them with apt information. So that they can have a positive image of our organization.
There comes a day when we are new to an organization and we don't have any idea of the officials holding different responsibilities. We simply assume the person based on our I.Q and send a mail. And if that person is not the one authorized, he simply replies us back informing the same. This can be avoided by getting assumptions clarified. We may ask the person in our mail to guide us to the intended person.
Ensuring easy and clear reading and understanding of the content is also a key part of mailing. This will help the intended person to reply us in a better way.
Last but not the least and most important, read an email at least once before sending it in order to perceive it from the receiver's point of view plus to avoid any typos.
Now, some quick tips in addition to this basic rule:
1. Be Systematic; Organize your mails in folders like Important, Personal, Professional, Clients etc.
2. Think of your recipient and never forward junk/abusive mails. Since our contact list usually has contacts of  varied age group and status.

3. Keep the mail short and simple(KISS); avoid using complex words.

4. Conclude the mail with a signature. It should include our Name, Designation, Name of the Organization, Address and Contact Number(optional)

5. Do use a hyperlink instead of attachments or copies

6. Switch to Microsoft Outlook for better handling of mails
I hope these basic Email Etiquette will help you all in developing an effective communication in your professional life. Apply them slowly one by one in your daily routine and you'll figure out favorable results for sure.