Recently Google launched, a new social networking service named – "Google Plus or Google+". It is considered to be the Google's answer to Facebook. It includes all the major Google Services and gets integrated to our gmail also allowing us to keep a real time watch on the happenings.
It uses a very clean user interface which adds up to the flavor. According to me, I feel more organised while using Google Plus. It can be considered to be a social network which is indexed in the search engines since it is a sort of layer on Google Profiles. So any one can search, this also pose a threat but these days we all know the dark side of the internet. So nothing to worry as such still someone should be cautious while posting messages on there circles(it is a type of group among which we can divide our friend list and a person can be added to multiple groups also). Following is the basic view of a Google Plus Profile: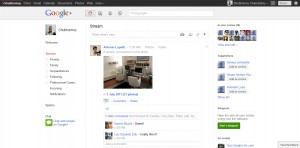 Now lets discuss about the invitation trick. Actually Google Plus has yet not started the feature of invite by mail. So here goes the trick:
1. Ask someone to add you to their circle. (Even you can post it in the comment, I'll add you in my circle).

2. Whenever the person who has added you posts something you will receive it by mail.

3. Simply click the view or comment link.

4. This will redirect you to the following page:
After that fill all the necessary information in your profile. Add your friends to different circles, create hangouts and do much more. Similar to Facebook likes, Google Plus has included +1.

There is a good news for Android users. Google has launched an application Google Plus. So now you can stay connected using your Android Phone also. Google+ Android App for Android 2.1+
Hope you to meet you on Google Plus and do let me know if you have any queries. In case you need an Google Plus Invite kindly post in the comment. I will try my best to send you an invite.